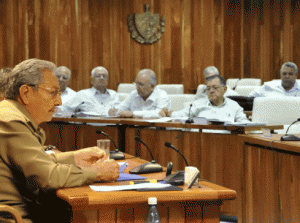 President Raul Castro called for in-depth analysis of the causes damaging the national economy, which is growing but not rapidly, local media are reporting today.
"We have a huge task ahead but we must not let problems overwhelm or intimidate us," the statesman said in remarks at the meeting of the Council of Ministers held on June 21.
"The Cuban economy has grown compared with 2013 although not to the levels envisioned by the plan, resulting in a more rapid than expected slowdown," Economy and Planning Minister Adel Yzquierdo noted.
He stated that this is mainly due to shortfalls in planned foreign earnings, adverse weather conditions, and internal shortages that the economy continues to face. He added that this was part of a complex international situation and a sharpening of the U.S.-imposed economic, trade and financial blockade.
During the first semester of the present year, a 0.6 percent growth of the Gross Domestic Product (GDP) is expected, he said.
The minister stressed that transportation, storage and communications, agriculture, livestock and forestry, the sugar industry, and hotels and restaurants, are among the activities with better growth.
Targeted investment will be met by the end of the first semester, although 95 percent of the plan is expected by year end, reflecting improved investment management.
Finance and Pricing Minister Lina Pedraza stated that revenue in the execution of the State's budget surpassed 1.3 percent in the first semester of the year.