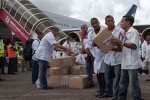 An article published in The Washington Post highlighted the importance of Cuban medical help to African countries hit by Ebola virus in the wake of arrival of 165 Cuban professionals to Freetown, Sierra Leone.
Titled "In the Medical Response to Ebola, Cuba is Punching Far Above its Weight," the article refers to Cuba's medical collaboration in West Africa at the request of the World Health Organization.
A text written by Adam Taylor and published yesterday here extols the response of the tiny Caribbean island of only 11 million inhabitants that became a crucial supplier of its medical experience as the international community is accused of "dragging its feet" to face the consequences of the virus.
The Washington Post says that despite being a poor nation, with a GDP that is a sixth of that in the UK, gave a rapid, far more robust response than many countries far wealthier than it.
The article also referred to Cuba's universal health system, taking into account WHO assessments, recognizing the extraordinary medical achievements that are close or equal to those attained in developed countries, like a reduction of infant mortality and a high life expectancy.
It also praised the systems of professional training of docs and health technicians in Cuba, as well as the assistance given in training hundreds of thousands of doctors and specialists from poor countries.
Taylor extols in his article Cuba's assistance and solidarity to many countries, including its offer to help the victims of Hurricane Katrina in the United States.
He stressed that Cuba also plans to send another 296 doctors ands nurses to fight Ebola in Liberia and Guinea, "set to be more than those sent from far larger countries like China and Israel, the latter a wealthier nation with a similar population, which caused controversy this week when it rejected calls to send medical teams to Africa," comments the article.