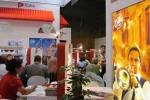 Cuba promotes heritage and cultural sites, as well as sun and beach destinations, in the Top Resa Tourism Fair that continues today at the Exhibition Park of Porte de Versailles in Paris.
In the event, considered a reference for tourism professionals, are represented four Cuban hotel groups: Cubanacan, Gaviota, Gran Caribe and Habaguanex.
'Every year our company participates in this fair," told Prensa Latina Tannya Síbori, commercial manager of Habaguanex, created 20 ago by the Office of the City Historian of Havana.
The company's main purpose is to raise funds for the restoration and revival of the historic center of the city, declared World Heritage Site by the United Nations Educational, Scientific and Cultural Organization (UNESCO).
Habaguanex has more than 20 hotels and most recently opened the Havana 612, Síbori informed and reminded that this city is a product in high demand, especially for the European market, for all the beauty and architectural wealth.
Heritage sites are also promoted here by Cubanacan group, founded 27 years ago.
'We have a line of hotels E, which are the colonial style, in different cities like Trinidad, Santa Clara, Matanzas and Santiago de Cuba and most recently the Ordono in Gibara," said Raisa Perez, sales executive for European market.
Cubanacan also brings, among its offerings diving circuits and Sun and beach labeled products, Perez said.
This type of destination is also promoted in the fair by Gaviota group, which owns hotels in major centers, including Havana, Varadero, Baracoa and cays north of Villa Clara, in central Cuba.
This year's Valentin Perla Blanca hotel opened in Cayo Santa Maria, and soon the Jardines del Rey will open, Marleny Fernández, Gaviota commercial specialist reported.
To facilitate the influx of tourists to the cays north of Santa Clara, Cubana Airlines will resume weekly trips to the province located at the center of the nation, in addition to maintaining a regular flight every Sunday to Santiago de Cuba and Havana.
Rosa Elena Nieves, business deputy director of the Corporation of the Cuban Aviation, said the flights will start on November 22 running until April 27.
The Top Resa Tourism Fair, scheduled for this week, has the participation of representatives from airlines, hotel chains, travel agencies, tour operators and other tourism professionals from all continents.