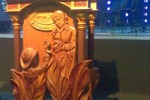 The traditional humidor auction that closed the 16 Habano Cigar Festival in Havana collected 1 million 102 thousand 210 Euros, which were dedicated to the Cuban health system. The closing ceremony was held Friday at Havana's Pabexpo exhibition hall with the attendance of 1 500 guests from 80 countries. During the ceremony, renowned British singer Tom Jones interpreted some of his famous songs, along a large group of artists who also took part of the gala.
16 Habano Cigar Festival in Havana
The festival launched the new H. Upmann brand No. 2 cigar shape, which was a special moment during the event.
Belgian Ben Vinken was granted the Year's Habano Prize in the category of Communication, while Swiss Urs Portmann took the award in the area of Marketing, while in the category of Production, the prize went to the hands of Cuban Arnaldo Vichot, from the Partagas cigar factory.
The program of the festival, which ran last week, included key-note lectures, visits to famous Cuban tobacco plantations in western Pinar del Rio, tasting sessions, and alliances of cigars with rums, vodka and beers.
Also very interesting was a commercial fair displayed at Havana's Convention Palace, which exhibited and marketed, cigar-related items, from cutters to humidors, drinks, clothes and many other object in the world of cigars.