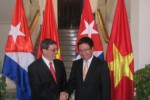 Cuban Foreign Affairs Minister, Bruno Rodriguez, met this Wednesday in Hanoi with his Vietnamese peer, Phan Bing Minh, on the first day of an official working visit to that country.
During welcoming remarks, the also deputy prime minister said that this contact will contribute to the strengthening of the already close bilateral relations, which Vietnam takes pride in and which are based on truth and mutual understanding.
After arriving in Hanoi from Sri Lanka, Rodriguez, heading a delegation, placed a wreath at the memorial to the heroes and martyrs of the war.
In his three day stay, Rodriguez is scheduled to meet with General Secretary of the Communist Party, Nguyen Phu Trong, Prime Minister Nguyen Tan Dung and Vice President of the National Assembly, Nguyen Thi Ki Ngan, who in turn leads the Vietnam-Cuba Friendship Association.
Media are highlighting the special ties of friendship between Vietnam and Cuba and have mentioned the high-level agreements and cooperation documents signed by both parties in recent years.