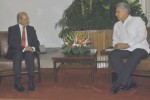 Miguel Diaz-Canel, first vice-president of the Councils of State and Ministers, met with Ahmed Üzümcü, director general of the Organization for the Prohibition of Chemical Weapons (OPCW).
Diaz-Canel and Ahmed Üzümcü spoke about the good state of bonds between the OPCW and Cuba, and reiterated the common willingness to continue strengthening them.
As an example of this good state of relations, they highlighted the carrying out in Havana of the Regional Course on Medical Aspects of Assistance and Protection against Chemical Weapons for Latin American and Caribbean States, which began on October 20 and will end on October 23.
Likewise, they tackled other topics of interest related to the promotion of exchanges of chemicals and scientific information with peaceful purposes.
Also present at the meeting were Pedro Luis Pedroso, acting director general for Multilateral Affairs and International Law of the Foreign Ministry and Fermin Quiñones, ambassador to Holland and Cuba's representative at the OPAQ.