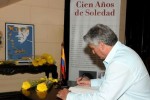 Miguel Diaz-Canel recalled that the award-winning writer and journalist leaves a significant literary legacy and will be also remembered here for the close friendship with Fidel Castro.
The Cuban top official stated today the historic leader of the Cuban Revolution, Fidel Castro, is in good health, though dismayed by the death of his close friend Gabriel García Márquez.
Fidel is a man with a huge human sensitivity, but he is also an experienced man who has learned from all the battles he has had to deal with, comented Diaz-Canel in the Embassy of Colombia here, where he came to pay tribute to the Nobel Prize for Literature 1982.
Later, Diaz-Canel met the press and expressed confidence in the peace process taking place in Havana with representatives of the government of Juan Manuel Santos and the Colombian Revolutionary Armed Forces-People's Army.
We have made it easier for them to talk, we trust in this process and we believe it will work, he said.
In addition, the first Cuban vice president reaffirmed the island is open to dialogue and facilitate relations with the European Union (EU), on the basis of equality and respect.
That block and the Cuban government will hold on April 29 and 30 the first round of negotiations in this capital, on an agreement on political dialogue and cooperation.