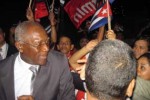 Solidarity, political and social organizations of El Salvador gave a warm welcome to the delegation led by Cuban Vice President Salvador Valdes Mesa, which will attend the inauguration of the new president.
The popular welcome took place yesterday night at the Cristo de la Paz monument, in the road linking the capital and the international airport, in the limits of municipalities of San Salvador and San Marcos.
Hundreds of members of the Salvadorian Coordinating Committee of Solidarity with Cuba and veterans of the Farabundo Marti Liberation Front (FMLN) in unison cheered Cuba, its people, and historic leader Fidel Castro.
Valdes Mesa talked with demonstrators during the emotional encounter and thanked their expressions of solidarity with the Cuban government and people.
Thanks to Cuba, Fidel and his people for their permanent support and solidarity, said Raul Martinez, main leader of the Coordinating Committee.
"We have come here to ratify our unwavering support to the Cuban Revolution, our condemnations of US aggressions and economic blockade on Cuba, the Salvadorian leader noted.
Valdes Mesa, who travelled accompanied by a delegation also including Deputy Foreign Minister Rogelio Sierra, among others, will develop a working agenda today, including a meeting with Vice President-Elect Oscar Ortiz.
Cuba and El Salvador re-established diplomatic relations, broken in 1961 for the then military dictatorship, on June 1, 2009, during the first official event of the government of outgoing President Mauricio Funes.