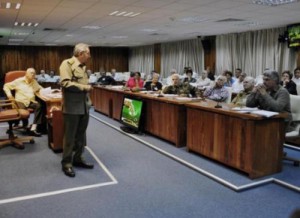 The Cuban Council of Ministers led by Cuban President Raul Castro, adopted several policies and measures related to the updating of the national economic model, Granma newspaper reports.
Among the topics discussed in last Friday meeting, were the portfolio of opportunities for foreign investment; population aging; the functions and powers of the business units of base; accounts receivable and payable; state property registration; and the General Urban Management Plan of the city of Santiago de Cuba.
The Vice President of the Council of Ministers Marino Murillo presented the Portfolio Opportunities for Foreign Investment, the creation of which  'is an essential aspect in the process of attracting foreign capital', he said.
He explained the International Fair of Havana that will be held next month will have as central theme the foreign investment to promote the new policy and its regulatory framework.
The Portfolio adopted at this meeting has 246 projects to be developed with foreign capital with an amount of 8,7 billion dollars, and covers key areas such as food, construction, pharmaceuticals and biotechnology, and renewable energy, among others.
On the other hand, it was discussed the demographic dynamics of the country, with the challenge of aging population and also the policy adopted at this session. Murillo explained it will not yield results immediately, but in the medium and long term.
Its main goals are to stimulate fertility, meeting the needs of the growing population of senior citizens, and to promote efficient employment of people, he added.
The Cabinet also approved a Comprehensive Policy on Intellectual Property, as well as new proposals on the functions and powers of the Basic Companies (Unidades Empresariales de Base), supported by the gradual reorganization in state agencies.
It was also discussed the financial treatment for Agricultural Production Cooperatives engaged in non-sugar activities and then a report on the status of accounts payable and receivable overdue, a task that in general advances, says Granma.
At the same time was presented the report on the implementation of the plan of state property registration in the period January-August 2014, and the Cabinet approved the General Urban Management Plan of the city of Santiago de Cuba, hit by Hurricane Sandy in 2012.
Also, the main economic damages caused by irregularities in the country's foreign trade during the first half of 2014 were the subject of analysis.
In this regard, measures have been taken to address these deficiencies, the Minister of Foreign Trade and Foreign Investment Rodrigo Malmierca said.