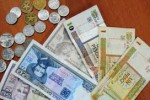 Minister and President of the Central Bank of Cuba (BCC), Ernesto Medina, says that the elimination of the dual monetary system in this country is a top priority for Cuba's financial system.
Medina made the remarks in an interview published today in the Granma newspaper, about the importance of monetary unification in Cuba, where a convertible peso (CUC) circulates alongside a Cuban peso (CUP).
The minister said that a working group was established to elaborate the process in conjunction with central planning agencies that will lead to "Day Zero," when the unification becomes official.
He expressed that financial entities must be able to back the implementation of monetary unification, something that in turn demands a great logistic effort to incorporate all the necessary steps.
Medina pointed out that logically, the Cuban peso (CUP) would be the single currency and that retail prices would remain the same, but that this would imply that a greater quantity of the bills would need to circulate, and said that authorities are even evaluating the possibility of issuing banknotes with a higher face value.
He added that they are also looking for ways to increase the use of magnetic cards through POS (Point of Sale) terminals at certain shopping centers, as a way to avoid the use of cash and facilitate operations.
The minister said that the Minister of Domestic Commerce and Cuba's electric and phone companies, among others, were looking to incorporate POS terminals at their business offices.
He also referred to BCC's coordination with Fincimex, the agency dedicated to the purchase and installation of POS terminals at retail locations, and said that a supply of terminals, valued at $300 apiece, are already on hand.
Medina said that Cuba's elimination of the dual currency would have no effect on bank accounts, as balances would automatically convert, in order to protect banking clients.
Among the other actions currently underway, he mentioned the study of indicators that measure monetary circulation, aimed at watching certain signs that would indicate whether or not the currency in circulation was adequate.
The banking system is focused on macro-economic measures, while financial institutions would have their own measures to deal with new credit capacities demanded by the economy.