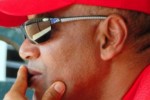 Villa Clara's performance in the recent Caribbean Series in Margarita Island-2014, put Cuban baseball in the eye of a hurricane, fact that "will cause some changes", said Victor Mesa, national coach. 
Talking to Prensa Latina, Mesa regretted the last position of Villa Clara in the regional competition and stressed the need of "continue working to play at least, for the championship in next editions of this serie.
There will be made meetings to analyze if we go to tournaments with the National Series Champion's team or with a selection of the whole series to look it better. So far we are thinking about the champion team but well reinforce, warned Mesa, national coach until 2017.
Villa Clara's team had the worst performance of a Cuban club in the history of the Caribbean Series, ranking last in Margarita Island, with barely a win and three failures, as well as its alarming poverty in every order during the games.
The team of Cuba, country that back to the Caribbean Series after more than five decades of absence, only choose six reinforces to face the tournament, while its rivals chosen around 12, mainly pitchers.
Olympic champion in Barcelona-1992 and five times world champion, Mesa stressed also that "for Cuba, we have to look at least to play for championship, or classify between the great, and not in the last place, because thus Cuban baseball's level seems to be lost."
Víctor Mesa, loved by many and critized by many others by his way of guide his teams, described as imprtant the insertion of Cuban players in foreign leagues, as last year did it the slugger Alfredo Despaigne, the catcher Ariel Pestano, first base Yordanis Samón and third base Michel Enríquez, said Mesa talking to Prensa Latina.
He also admitted the "high level" of the Caribbean Series, but added that this tournament is under the World Classic, currently elite tournament of the world baseball.
The Caribbean Series "has nothing to do with the World Classic, this is a strongest tournament, it gathers a great galaxy of baseball players", said Mesa.
The performance of Villa Clara in Margarita Island caused a severe storm of critics by the specialized press, in and out of the country, mainly of them focused in the urgency of radical changes to increase the level of Cuban baseball.
In Margarita Island, the team of Naranjeros de Hermosillo (México) conquered the title defeating in the great final 7-1 to the Indean of Mayagüez (Puerto Rico).
Behind Mexicans and Puerto Rican placed Magallanes (Venezuela), Tigres del Licey (República Dominicana) and Villa Clara (only team eliminated in semifinals).
Next edition of the Caribbean Series will take place in 2015, at the Hiram Bithorn Stadium, in San Juan, Puerto Rico, and Cuba is planning how to reinforce its baseball to strongly besiege teams in tournament.