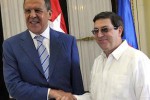 Cuba and Russia condemned the sanctions imposed by the U.S. and Western governments against Moscow, during official talks held in Havana between Foreign Ministers Bruno Rodriguez and Serguei Lavrov.
Rodriguez described the deployment of NATO troops in the vicinity of Russian territory actions as a threat to international peace and security.
He added that Cuba strongly rejects the imposition of sanctions against Russia by "those who cause wars of conquest and intervene to destabilize sovereign governments".
Regarding the Ukrainian crisis, Lavrov said Moscow favors a national dialog in the country that takes into account the interests of all regions. The sanctions against Russia lack common sense, he added.
He said that Washington and its Western allies are trying to blame someone else for the coup in Ukraine.
Both ministers agreed on the good health of the bilateral relations, which Lavrov classified as brotherly ties. They also praised the dialog and coordination in international mechanisms on the basis of wide agreement.
The parts also reviewed the economic and commercial agreements in effect until 2020, which include the pharmaceutical, energy and infrastructure sectors
In this sense, the Russian minister announced that the economic ties will boost businessmen's interest in Cuba in the context of the new foreign investment law in Cuba, as he predicted a wide participation of Russian investors at the Special Development Zone in Mariel
Latin America is playing a leading role in the construction of a multi-polar world, said Lavrov, who commended Russia's relations with the CELAC and praised Cuba for the success of the organization's recent summit in Havana.
Lavrov also decorated his Cuban counterpart and Foreign Relations Deputy Minister Abelardo Moreno the distinction "For the Cooperation", awarded by Russia's Ministry of Foreign Affairs.
Cuba was the Russian minister's first stop in his Latin American tour.