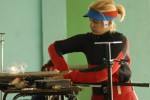 Rules adopted for the income of Cuban elite athletes are already effective, Granma newspaper reported.
The Vice President of the Cuban Sports Institute (INDER), Roberto Leon Richards, confirmed that personnel involved in the sport are receiving the salary increases approved last September.
He explained that recently additional provisions have been adopted, and topics such as Social Security and procedures for foreign contracting continue to be studied.
On this point, he insisted that national contracts will be signed with all athletes, depending on their results, need for preparation, and sporting prospects, as well as providing comprehensive training.
All adult athletes will be hired, and for the under-17 category a social benefit agreement will be available, to be signed by their legal representatives, where their rights and duties will be also recognized, said Leon. This last measure is also meant to protect the Cuban sports system from mercenary international sports scouts.
"So far we had collective regulation but contracts mean stronger commitments, with a strong legal basis," he added.
As initially agreed, the rules began taking effect in January 2014, and in the case of baseball players, were implemented from the beginning of the current National Series last November.
According to the legal standard adopted, titles achieved are permanent, but the categorization of top athlete or reservation will be updated annually based on achievement.
Recently tax obligations were also declared, something which had not been addressed when the wage increase was published.
In this regard, athletes are to contribute ten percent of the income they receive for being multi-medalists, or for the highest ranking medal obtained at the Pan American or Central American and Caribbean games.
Similarly, personal income tax will be applied for individual and collective international and national awards (four percent of the total award received).
Finally, Leon pointed out that the wage increase is not meant to supplant the traditional work of the coaches in the formation of Cuban athletes' values.
"We can never abandon the key to high performance in Cuba, which is the result of sports being available to all, where values have been the key to success," he said.