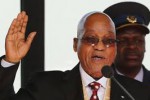 Cuban Vice President Salvador Valdes Mesa stressed that Cuba is proud of its fraternal relations with South Africa and that political-economic bilateral ties will be expanded during President Jacob Zuma's new term in office.
Valdes Mesa, who is concluding an official visit today to this country, paid special tribute to more than 1,000 Cuban internationalists who lost their lives in the liberation struggles on African soil, during a tour of the Freedom Park monument.
"Their names are listed on that sacred wall as a deserved recognition for their sacrifice and fair contribution so their history can be known and remembered," the top leader stressed.
"It was a honor for Cuba to attend the presidential inauguration on the occasion of the 20th anniversary of the liberation, and on behalf of the Cuban government and people, we congratulate President Zuma and the African National Congress (ANC)," said Valdes Mesa.
"We are also celebrating the 20th anniversary of diplomatic relations between our countries, on May 8, 1994, when in a recently liberated South Africa, Presidents Nelson Mandela and Fidel Castro made those links official," he noted.
"The Cuban Revolution was an early ally of the liberation struggle in South Africa. Our solidarity ties with the ANC and the South African Communist Party were developed in many fronts, against the segregationist and illegitimate regime of Apartheid," Valdes Mesa added.
Hundreds of thousands of Cubans joined with Angolans, Namibians and South Africans to fight and defeat the Apartheid military machinery in southern Angola, in the fierce battle to defend Angola's territorial integrity and contribute to the liberation of the African peoples, he recalled.
Valdes Mesa arrived in Pretoria on Friday to participate in the inauguration of the second government of President Jacob Zuma, who was elected on May 21 by the National Assembly, for the 2014-2019 period.