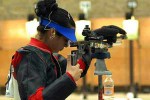 Cuba closed its participation in the 9 American Cup of Sports Shooting when Alexander Moleiro achieved the eighth gold medal for his team, in rifle three positions style at 50 meters (m).
At the Hunting Club in the Mexican city of Guadalajara, Moleiro surprised rivals and specialists because after rating in the last position with 1,149 points he won the final with 446.6, ahead of the host (443.6) and his compatriot Reinier Estopiñán (430.8).
By teams, Cuba finished second with a balance of 3,438 units, behind the United States (3,470) and ahead of Argentina (3,429).
Meanwhile in standard pistol, the trio Leuris Pupo, Jorge Felix Alvarez and Juan Francisco Perez compiled 1,660 stripes, to escort the winning cast of Venezuela with (1.672) and overtake Puerto Rico, third with 1,642.
Overall the Cuban representation ended with eight gold medals, six silver and five bronze.
In addition, the Cuban team also known as the "Cuban gunmen" got five tickets for the Olympic Games in Rio de Janeiro-2016, thanks to Eglys de la Cruz (10m air rifle and 50 m rifle three positions), Jorge Grau (50 m pistol) and Estopiñán (rifle 50 m).
Dianelys Perez finished second in the 50 m rifle three positions but reached the passport because Eglys already had it.
They also got 17 tickets for the upcoming Pan American Games to be held in Toronto, Canada in 2015.