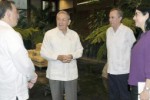 Cuban President Raul Castro Ruz received Mexican Foreign Minister Jose Antonio Meade this Monday afternoon. The diplomat came to the island on a working visit.
During the meeting Raul Castro and Meade exchanged views on the positive state of bilateral relations and other issues of regional interest, such as the upcoming Twenty-Fourth Ibero American Summit to be held in Veracruz, Mexico.
The distinguished guest was accompanied by Cuba's secretary for Latin America and the Carribean, Vanessa Rubio Marquez, and Mexican ambassador in Cuba, Juan Jose Bremer.
Acting foreign minister, Rogelio Sierra participated on Cuba's behalf.
Previously, Meade was received by the Vice President of the Council of Ministers, Ricrado Cabrisas.