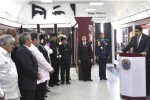 The statesmen attending the 2nd Summit of the Community of Latin American and Caribbean States (CELAC) opened today the "Venezuela Tierra Libre" Museum, in tribute to the late President Hugo Chavez.
The Cabaña Fortress, located east of Havana, is the venue of this center that will be a perpetual tribute to the memory and history of a rebel who knew to create a new era, Venezuelan President Nicolas Maduro said during the opening.
This space is to remember a man whose mark is still present because he was a great warrior of light and ideas, he showed the 200-year-ago lost paths, and taught us that history is alive and is a continuous process, Maduro said.
This is a fair tribute to his struggle and work, we will continue walking his way of commitment and true union, liberation of our peoples, and union within diversity, he stated.
The presidents toured the museum that has two halls, one related to the history of Venezuela, from the native peoples to the Bolivarian Revolution.
The second hall is dedicated to Chavez' life and legacy, from the birth of the revolutionary leader to his death, in 2013.
The presidents from 29 countries, plus Chilean President-Elect Michelle Bachelet, is attending today the last session of the 2nd CELAC Summit, focused on issues related to the fight against hunger, poverty, and inequalities.