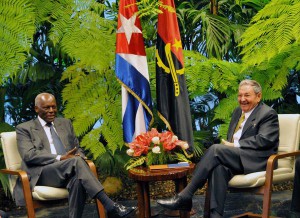 President Raul Castro personally welcomed his Angolan peer Jose Eduardo dos Santos, who's paying an official visit to the island.
During a meeting held yesterday, both statesmen ratified the excellent state of bilateral relations that reflect the historic ties of friendship joining the two peoples and governments, and discussed issues of international interest.
Angolan Minister of State and Chief of Civil Office Edeltrude Mauricio Fernandes, and Foreign Minister Georges Rebelo Pinto, among others, were present during the dialogue.
Cuban Vice President of the Council of Ministers Ricardo Cabrisas, Foreign Minister Bruno Rodriguez, and Minister of Foreign Trade and Foreign Investment, Rodrigo Malmierca, also attended the meeting.
The leader of the Angolan nation arrived in the island on Tuesday, June 17, and visited the new container terminal in the Mariel Special Development Zone (ZEDM), expected to become the principal entry and exit point for Cuban foreign trade.
Dos Santos received an extensive explanation about the characteristics and infrastructure works undertaken there, as well as the regulatory framework governing the operations of the most complex infrastructure project that has ever been implemented in Cuba.