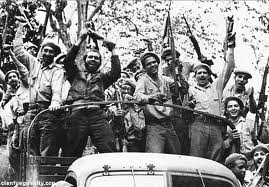 Cubans on Saturday celebrated the 53rd anniversary of their victory over a 1,500-strong mercenary invading force, the so-called Brigade 2506, equipped, trained and financed by the U.S. government, at Playa Giron (Bay of Pigs).
The ceremony was held in this coastal town, in the south of western Matanzas province, 220 kilometers southeast of Havana, and the last stronghold of the invaders, who were defeated in less than 72 hours.
People from the Zapata Swamp, where the combats took place in 1961, and the surrounding municipalities, participated in the event, also attended by Cuban Parliament President Esteban Lazo, major authorities from Matanzas, militiamen and officials.
Rebeca Morales, a member of the Communist Party of Cuba (PCC) provincial bureau in Matanzas, stated that more than 50 years have passed since those events shocked the world and strengthened the Cuban Revolution. The official called to move forwards in a complex ideological context, marked by the big challenge of ensuring the continuity of the revolutionary work and building prosperous and sustainable socialism.
Morales also expressed Cuba´s solidarity with the Venezuelan people, and called to continue struggling for the release of the three antiterrorist fighters unjustly held in U.S. prisons: Gerardo Hernandez, Ramon Labañino and Antonio Guerrero.
They have been in prison since 1998 for monitoring actions by extremist groups against Cuba. Rene Gonzalez and Fernando Gonzalez already returned home after completing their prison sentences.
Dance and musical groups, improvisers, soloists and duets performed at the ceremony.