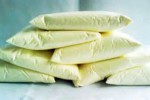 Cuba will increase its annual budget for wholesale milk subsidies in the basic family food basket, by 12 million pesos ($12 million USD at the official exchange rate).
The article analyzes the importance of this issue to the island's economy, and adds opinions from Ministry of Finance and Prices (MFP) officials, the Food Industry, and the CIMEX managerial group.
Daily reports of the rapid rise in prices of food products in the international market, directly affect the Cuban economy, it added.
Granma states that Resolution 165 of 2004 by the MFP, providing the rise in price of such products sold in Cuban Convertible Peso (CUC), was enacted on April 4.
The director of Trade, Tourism and Service at the MFP, Octavio Beltran, said that an increase of from $4,720 USD to $5,563 USD per ton of milk in the global market would cause business losses if the corresponding adjustments were not carried out.
Other officials from the sector stated that the policy had always been to avoid such increases, despite market levels, Granma noted.
Retail prices for 500-gram powdered milk will rise from $2.90 CUC to $3.35 CUC, and for 1 kilogram, from 5.75 CUC to 6.60 CUC.
The price increase, last applied in 2007 due to similar situations, will certainly have an impact among those who purchase that basic product not only for personal consumption, but also as a basis for the development of other kinds of food.
This is an inevitable measure to avoid further losses to the country that, as a principle, will continue ensuring this food for a part of the population in national currency, the note concludes.