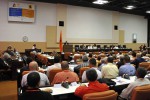 A keynote speech titled "Cuba's Civil Defense System, Fifty Years of Learned Lessons" is opening the working sessions today at the Ninth International Conference on Natural Disasters, running until June 20.
Protection of the population, vulnerabilities and risks, adaptation to climate change, and the need to establish a process to strengthen resilience through training, territorial organization, and comprehensive community participation are among the issues to be discussed at the event.
Cuba's medical collaboration, reorganization of health services in natural disaster situations, hospital security, mental health, as well as raising awareness of risk management will also be analyzed at the forum, held at Havana's Conference Center.
Experiences from the Latin American School of Medicine in training students to face disasters and practical examples in different countries will be highlighted.
Officials, specialists, researchers, and professionals from around the world, devoted to civil defense systems for people, property, the economy and environment, are attending this congress to exchange views and update tools to face the effects of potentially catastrophic weather phenomena, as well as promote cooperative programs and projects in this field.