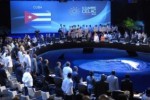 Cuba highlighted at the UN Conference on Disarmament the decision adopted by the Community of Latin American and Caribbean Countries (CELAC) to proclaim the region a Zone of Peace.
The decision constitutes a historical milestone and will banish forever the possibility of war and the use or threat of force to solve differences among our countries, Cuban ambassador to the UN and international organizations in Geneva Anayansi Rodríguez said.
She stressed that all 33 country members of the new integration mechanism expressed their commitment to respect international law and the non-intervention in the internal affairs of other States.
The 2nd CELAC Summit was held in Havana last January 28th and 29th and approved a special declaration defining the complete and verifiable nuclear disarmament as one of CELAC objectives.
The diplomat recalled that Latin America and the Caribbean was the first region in the planet to declare a nuclear weapon-free zone through the Treaty of Tlatelolco.
Due to the importance of CELAC agreements, Cuba requested to publish these declarations as official documents of the UN Conference on Disarmament.