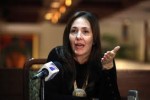 Cuba has considerably advanced in the issue of women emancipation and is now the third country in the world with the largest presence of women in its national parliament, Deputy Mariela Castro said in Spain.
Women stand for 48.36 percent of Cuban parliamentarians, while they are increasing their presence in leading posts, Mariela Castro told PL news agency.
She said that the struggle for women's emancipation, waged by the Cuban Women's Federation, has never minimized the role of men, which is crucial so that all together manage to transform patriarchal culture inherited from colonial and neo-colonial systems.
The Cuban deputy, who heads the island's Sexual Education Center, took part in Paris in an International Forum on Gender, Culture and Society, where participants also address the issue of trans-sexuality.
The forum has been held since 2010 alternatively in Havana and France as venues and it focuses on the social area with the participation of psychologists, sociologists, philosophers, artists and other member of civil society.
Cuba has participated in different events favoring the recognition of sexual rights as human rights and many legislations passed on the island consider these prerogatives, said the deputy.