Cuba and Ecuador advocated for strengthening bilateral relations and pointed their areas of coincidence in the context of the official visit here of the Ecuadorian Foreign Minister, Ricardo Patiño.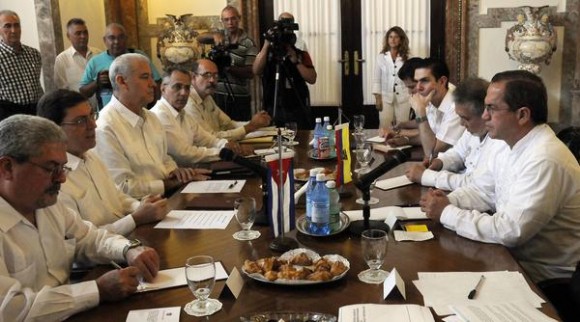 At a meeting with Patiño at the headquarters of the Ministry of Foreign Affairs in Havana, his Cuban counterpart, Bruno Rodriguez, expressed his satisfaction with the excellent situation of the bilateral relations with the South American nation.
In this regard, he pointed out the areas of deep coincidence between the two nations in the affairs of the international agenda and emphasized the close coordination and bilateral cooperation in the multilateral agencies and international organizations.
The Cuban Foreign Minister recalled that the next few months will be of great significance in the field of common agenda and regional integration, before the celebration on December 14 in Havana of the Summit of the Bolivarian Alliance for the Peoples of Our America, and the Community of Latin American and Caribbean States (Celac) in Costa Rica in January 2015.
Taking into account the proximity of this last event, in which Ecuador will assume the presidency of the regional bloc, Rodriguez stated that " we already commit all our efforts with the next Ecuadorian pro tempore presidency of the Celac, which we know will be historical'.