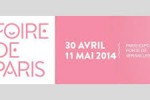 Cuban stand in the traditional Fair of Paris was inaugurated Tuesday in the Exhibition Park of Versailles with the presence of diplomats, officials and friends of the Caribbean nation.
The pavilion has 90 square meters in the space dedicated to Universal Arts and Culture and gathers craftmen working several materials such as wood, textile, seeds, metals, and furs.
There is also an area devoted to the Company of Recordings and Musical Editions (Egrem), where a varied catalog of the leading artists of that house is offered.
Records of Polo Montañés, Adalberto Álvarez, Charanga Habanera, Vicentico Valdez and the group Buena Vista Social Club, among others, are available for those interested, said to Prensa Latina Grisel Bocour, of Egrem.
Meanwhile, Adelfa Rodríguez,who has participated in this event for 12 years and is the Dean of the artisans group, said that her country has already won a spot among the traditional public of this event, one of oldest of the continent.
Shortly, after the official opening of the pavilion, the newly elected mayor of Paris, Anne Hidalgo, visited the facility along with a group of officials and the embassy of Cuba.
The inauguration was attended by the ambassadors of Cuba, Hector Igarza, and that of Venezuela, Michel Mujica, so as officials of both diplomatic delegations and a representation of the solidarity organizations Cuba Sí France and France Cuba.
The Paris Fair, which celebrates its 110th anniversary, opnened this Wednesday with the participation of over three thousand 500 exhibitors from 60 countries around the world and will end on May 11.