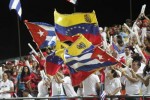 The Orange team from Villa Clara, Cuba, is at the edge of the abyss in the Caribbean  Baseball Series at Margarita Island, Venezuela, after losing 5-8 vs. the Navegantes de Magellanes team on Sunday.
Unlike the previous game, this time Cuba went ahead on the scoreboard with a run at the beginning of the second inning batted in by Yolexis La Rosa, but the Navegantes managed to tie the match toward the bottom of the same inning, aided by a costly fielding error from Cuban third baseman Yulieski Gourriel.
In the third inning, things changed for Villa Clara, when its rivals gave up four hits and scored three runs, two of them driven by the designated hitter Ramon Hernandez and the other by fielder Ezequiel Carrera.
An inning later Venezuela widened the difference with two additional runs by Endy Chavez, with a homer to deep right field.
In the fifth, when La Rosa hit a double, tensions rose to unimaginable limits and both teams threatened to take over on several occasions, especially Cuba, which could have tied the game in the seventh and eighth innings.
At the end of the eighth, Venezeulan closed the match with two gold runs before the Cuban pitching due to, mainly, the poor structuring of the roles of each pitcher. In the first two games, the pitchers of Villa Clara allowed 17 runs.
Finally, the credit for the victory went to right-hander Diolis Guerra (who pitched the sixth inning without allowing any walks, including two strikes), while the right shortstop Jean Machi closed the ninth and scored a point to save the game.
For the winners, the best batter was the designated hitter Ramon Hernandez, while for Cuba, Manduley was a highlight (triple, two RBIs) and Gourriel (single and double, an RBI, a run scored and two stolen bases).
Venezuela debuted with its best foot forward here at the Caribbean Series-2014, while Cuba remains on the brink of oblivion, with two defeats and no wins.
The schedule for tomorrow includes games between the Villa Clara-Tigres del Licey (RDO) , and Navegantes-Naranjeros Hermosillo (MEX).