José R. Machado Ventura, second secretary of the Central Committee of the Communist Party of Cuba, received Tran Quoc Vuong, from the Secretariat of the Communist Party of Viet Nam, Tran Quoc Vuong.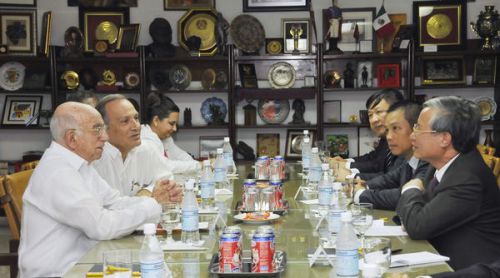 The meeting, in which both senior leaders exchanged experiences in the ideological political work and organization, analyzed the fraternal links between the two organizations and on current international issues, according to an official note.
Quoc Vuong, visits Cuba as the head of the delegation who participated in the second theoretical seminar of the two parties, which was in session Monday and Tuesday in Havana.
The first of these contacts took place in Hanoi in 2012.
The head of the Department of International Relations of the Central Committee of the PCC, José Ramón Balaguer, and other officials, were accompanying Machado Ventura .
Meanwhile on the Vietnamese side the meeting was attended by the Vietnamese Ambassador in Cuba, Duong Minh, and members of the visiting delegation.