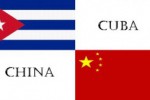 The upcoming visit to Cuba of President Xi Jinping was described as relevant to further deepen bilateral political ties and strengthen economic and friendship collaboration between the leaders of both countries.
In statements to Prensa Latina, Professor Wang Youming, director of the Department for Developing Countries Studies at the Chinese Institute of International Studies, said, "the two peoples are old friends, comrades, and brothers."
President Xi will travel to Cuba in July as part of a tour of Latin American countries, when he will also attend the BRICS Summit in Fortaleza, Brazil, on July 15, two days after the conclusion of the FIFA World Cup.
BRICS is a group of emergent economies, comprised of Brazil, Russia, India, China and South Africa.
This visit to Cuba will not only deepen the political exchanges between the two countries, but also the personal friendship between its leaders, and also strengthen economic collaboration, the professor said.
This is Xi Jinping's first visit to Cuba as a president since he took office in March 2013, and "so it has an important and historic sense." Cuba is China's old friend, he said.