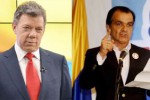 Candidate for Democratic Center Oscar Ivan Zuluaga won yesterday the largest number of votes in the first round of the presidential elections, with 29.26 percent so far.
However, as he did not reach half of the votes plus one to be proclaimed the winner, he will have to go to a second round on June 15, together with President-candidate Juan Manuel Santos, who won 25.9 percent of the votes.
According to the report by the Registration Office, they have counted so far 98.71 percent of the ballot boxes, with 13,109,823 voters of the 32 million people authorized to vote.