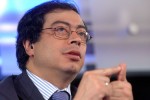 Colombian President Juan Manuel Santos on Wednesday dismissed Bogota Mayor Gustavo Petro after a court confirmed charges of disqualification and mismanagement against him.
In a televised message, Santos said he took the decision in accordance with the constitution and law, and appointed current Minister of Labor Rafael Pardo as the acting mayor in order to end uncertainty.
On Tuesday, the Inter-American Commission on Human Rights (IACHR) expressed its support for the dismissal of leftist Bogota mayor, who was elected to a four-year term ending in 2016.
The IACHR said Colombia violated human rights in December by ordering Petro's removal and barring him from politics for 15 years. In response, Colombian Minister of Justice Alfonso Gomez Mendez said the IACHR, unlike the American Court of Human Rights, does not issue orders but only recommendations which are not mandatory.
"The government has every right to evaluate the situation," Mendez was quoted as saying by the website of Colombian daily El Tiempo.
Petro was accused by the Colombian Attorney General's Office of failing to handle changes to the garbage collection scheme in December 2012, which "affected the freedom of enterprise and put in risk the environment and human health of Bogota's population."