The Revolutionary Armed Forces of Colombia-People's Army (FARC-EP) urged the government to agree on a ceasefire and demanded a more active participation of the citizens to put an end to the conflict.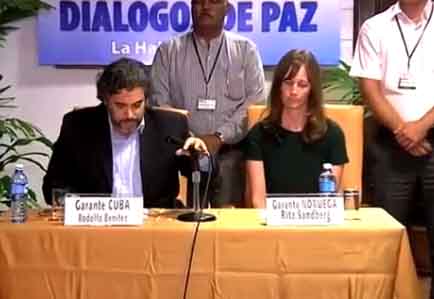 In a highly positive review of results of the peace talks with the Government of Juan Manuel Santos, on occasion of their second year, the leader of the FARC-EP delegation, Ivan Marquez, called to protect the negotiations.
"It is not sensible for us to continue killing each other in a confrontation that, if not stopped, it will generate prisoners and incidents that may endanger the continuity of the talks and shatter the yearning for signing a final agreement," he said.
The dialogues are suffering an impasse triggered by the capture on Monday of commander of the counterinsurgent Joint Task Force Titan, Brig.Gen. Ruben Dario Alzate along with another two people, in the northwestern Department of Choco.
Marquez termed as foolish the suspension of the talks by the Colombian Government and expressed hope for the situation to normalize, though he said to ignore if a rapprochement is in course for that purpose.
He said the most important achievement of the negotiations is the expansion of the feeling of reconciliation among Colombians, and he demanded a more active involvement of social and political movements and the citizens in general in the peace efforts.
Marquez thanked Cuba as guarantor and host of the talks for its efforts for achieving peace in Colombia, as well as Norway (also a guarantor), and Venezuela and Chile for their support and solidarity.
A demonstration was staged in the San Martin square, in Bogota, Colombia, where hundreds of Colombians claimed for peace and the resumption of dialogues between the Government and the FARC-EP guerrilla.
In his speech, Senator Ivan Cepeda called on the people to remain in permanent mobilization until talks are resumed and final agreements are reached.
Also in Colombia today, President Juan Manuel Santos said he was confident in a prompt solution to the impasse in the peace talks in the wake of his decision to cancel the trip of the government delegation to Havana.
"I want the talks to go on and the impasse to be solved in a good, rapid way," said Santos in a ceremony to give lands, houses and resources for productive projects to victims of the armed conflict in Ataco, Tolima.