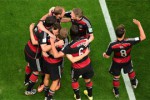 Not even the bitterest fans of the mighty Mannschaft could imagine what happened.
Epithets are extra and neither is good for the Brazilian team humiliated while Germany celebrates with sobriety after the cold and calculating master stroke at the World Cup.
It does not talk about anything else on successive days that the humiliating wide margin 7-1, although Lionel Messi dazzle us with some of his genius and Argentina could become the Latin American representative in Sunday's final.
Or even that Louis Van Gaal, Dutch renowned coach, turn to another of his tricks to defeat the Argentineans airs, dreaming with the Maracana in Rio de Janeiro on 13 July at 16:00 local time.
It was too much for soccer. Not even the bitterest fans of the mighty Mannschaft could imagine that. And even when the team has reasons to feel exultant jubilation, his coach prefers calm. The key against Brazil were coldly took advantage of the confusion and, most especially, not change for an instant our script, said coach Joachim Low, who did not hide his satisfaction feeling closer to the title.
"We knew that if we were brave and could impose our game, we could win the game. But this result could not expect anyone, obviously," Low said.
However, he stressed that the best thing now is to assume the situation with humility. "We have to prepare calmly for the final. I think this team is determined to win and we will stay focused."
Some prestigious voices sport crowds already rose to ponder Teutonic quality team. "For the good of soccer Germany must win (…)," said the legendary Dutch former star Johan Cryuff.
There weighed a lot of things. The absences of Neymar and Thiago Silva, the disorder of Brazilian defense and mainly the audacity of betting for cage the better team that rotates the ball and triangulates in tournament.
There weighed also the three world titles of Germany and its fourth consecutive semifinal, plus the finesse of the Penta of this faded Brazil.
As it was already seen in Brazil-2014, and in the history of the World Cups, in soccer there is no logic, it is only for suckers. In the Maracana anything can happen on Sunday.