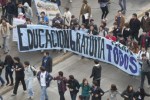 Chilean President Michelle Bachelet called congress people to approve as soon as possible her tax-reform proposal, which she said will allow collecting more funds for social projects, especially education.
During a visit to the school Monseñor Enrique Alvear, in Pudhauel, Bachelet asserted that the initiative would provide with the necessary resources to finance education and "put it back in the position that it should have never lost."
Obviously, beautiful ideas are not enough. Resources are necessary. That is the reason for a tax reform, for them not to be just beautiful words, but a concrete reality instead, she said.
Bachelet sent yesterday her proposal to Congress, planning to increase gradually, up to 25 percent, the tax on companies, starting from the current 20 percent.
It will eliminate the Revenue Fund in 2018, an instrument created during the dictatorship of Augusto Pinochet (1973-1990), which allows companies to postpone payment of their income taxes indefinitely if they are reinvested.
Together with the reforms in education and that to the Constitution, this plan is one of Bachelet's main electoral promises.
Approval of the bill by the majority, which is shaped by the forces that support the Government in both congressional chambers, is already considered a fact.