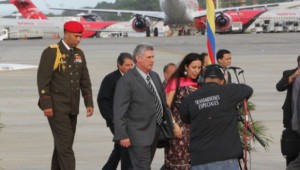 First Vice President Miguel Diaz-Canel stressed in Caracas how Hugo Chavez changed for good the history of Venezuela and that of all our America.
Speaking during the act on occasion of the 60th birthday of the late president, the Cuban leader stated that he is "an enduring example of dedication to the revolutionary struggle, exceptional love for his people, willingness, and unwavering courage."
"His humble and peasant origin, military training, sensitivity, discipline, and unwavering commitment, passion for history, music, poetry, and sports, made up the personality and incorruptible character of a true revolutionary leader …" Diaz-Canel said.
He recalled that Chavez knew, like anyone, the heart of his people and was capable of driving a time of changes in our continent.
He further said that when Chavez stopped physically participating in everyday and momentous battles of the Venezuelan homeland, his figure increased and became a perennial presence among his people and the peoples of the world.
Diaz-Canel praised the decisive contribution of the Bolivarian leader in the founding of the Community of Latin American and Caribbean States (CELAC), which "gave us the opportunity to walk as Marti said, in close ranks like silver in the roots of the Andes."