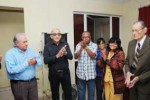 Cuban musicians César "Puppy" Pedroso and Adriano Rodriguez deserved the 2013 National Music Award, given on this occasion to two outstanding figures in this area, it was learned here today.
The president of the Jury, Juan Formell, founder of the orchestra Los Van Van, stressed the trajectory of both musicians and especially all the years devoted to music by the nonagenarian Rodríguez.
Pupy also deserved this award. He is an excellent performer, pianist, composer and arranger. He was brave when he decided to leave the Van Van and now has his own band of renown, Formell told Prensa Latina.
Author of famous songs for the dancers of this nation as "Temba, tumba y timba" and "El negro está cocinando", with its group Pupy y los que Son son are still achieving success in local and foreign scene.
Meanwhile, Adriano Rodriguez's career is marked by versatility, from his initial presentations in nightclubs during the 1950s until his lyrical performances.
To honor those great musicians a concert of popular dance music and other, more attached to the classical side are being organized.
The jury, headed by Formell, also comprised the son singer and composer Adalberto Alvarez, pianist Frank Fernandez, choral director Digna Guerra and the prestigious musician Alfredo Diez Nieto.