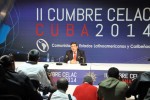 The 2nd Summit of the Community of Latin American and Caribbean States (CELAC) will be a step forward in its strengthening, Cuban Foreign Minister Bruno Rodriguez stated.
After opening the press center of the Summit, the foreign minister said the forum will contribute to the goal of turning CELAC into the single interlocutor of Latin American and the Caribbean.
That space of unity and regional sovereignty, with recognition to diversity, should be strengthened in Havana, Rodriguez said.
CELAC has a great potential, with almost 600 million inhabitants, powerful cultures and some of them natives, infrastructure, and natural resources, the Cuban diplomat noted.
However, for the heads of state and government, this will be a challenge on how to jointly face the scourge of the unequal distribution of wealth in the region, he said.
Cuba's pro tempore presidency hopes that the emphasis of the meeting focuses on fighting hunger, inequalities, and poverty, the minister said.
The Havana Declaration has a broad consensus and includes about 30 documents or special communiqués to endorse CELAC position on regional and international significance affairs.
The CELAC Summit will be held on Jan. 28-29 at Pabexpo fairgrounds in Havana.