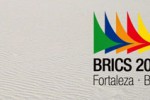 The sixth summit of leaders of BRICS (Brazil, Russia, India, China and South Africa) began in Fortaleza, Brasil, with a meeting among trade and finance ministers of this five denominated emerging economies.
The ministers of trade and finance, and the presidents of the bloc's central banks are giving the final touches to the issue to be discussed tomorrow among the heads of state and government of these nations.
The parties are expected to analyze the final aspects that ensure the announcement tomorrow of the creation of a development bank and a reserve fund to support countries with problems in their balances.
The financial entity will have a capital of $50 billion USD, with an initial contribution of $10 billion USD, which will be paid equally by the five members.
The fund will also have $100 billion USD and it will be distributed on the following way: China will deliver $41 billion USD, while Brazil, Russia, and India will pay each $18 billion USD, and South Africa $5 billion USD.
Parallel to this event will be a business forum with the attendance of 700 Brazilian, Russian, Chinese and South African entrepreneurs. Its objective is to encourage cooperation and trade among the members of the group.
The holding of this summit generated an extensive reinforcement of security in this city, capital of Ceara state and considered as an important tourist, trade and financial center of Brazil's north-eastern region. The meeting of the presidents of this bloc will begin tomorrow with the central issue "Inclusive growth: sustainable solution," which will be a step forwards in the development of policies for growth with a social approach.
The general assistant secretary of the Brazilian Ministry of Foreign Affairs, Ambassador Jose Alfredo Graza Lima, stressed the importance of BRICS to achieve greater responsibility in moving towards a fairer social order, not to acquire more power and grow, but with a better distribution of income.
The statesmen of the bloc will meet on July 16 in Brasilia with the South American presidents, to expand ties and get closer.