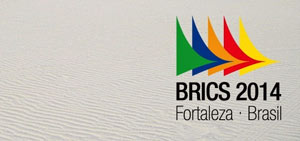 The sixth Summit of BRICS (Brazil, Russia, India, China and South Africa) ends today with a meeting of the leaders of that bloc and South American heads of State.
The meeting aims at debating issues of interest for all the parties, strengthening links and seeking rapprochements that bring more trade, economic cooperation and prosperity for nations.
The declaration, approved on Tuesday by the presidents of those five countries in Fortaleza highlights the commitment of encouraging and stimulating mechanisms of regional economic integration and governance such as Unasur, Mercosur and the Community of Latin American States (Celac).
The presence in Brasilia of the Russian, Chinese, Indian and South African leaders will be useful for Latin American leaders to hold talks in separate and privately.
This meeting will be followed by a meeting of head of State Dilma Rousseff and Indian Prime Minister Narendra Modi.