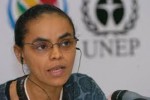 Brazilian socialist candidate Marina Silva has displaced her adversary from the Social Democratic Party, Aecio Neves, and is threatening the reelection of President Dilma Rousseff, in the October elections.
With growing support, after she became the candidate of the Brazilian Socialist Party (BSP) last week, replacing Eduardo Campos, who was killed in a plane crash, Silva has possibilities to win the elections in the second round, according to the latest surveys.
It is a real threat by this candidate, who is supported by those who are discontent with the traditional politicians and parties, a sector of evangelists and part of the powerful group of bankers, among others.
The latest poll by the MDA Institute grants Silvia 28.2 percent of vote intention, six percent less than Rousseff, of the Workers' Party (WP).
Although the head of State is supported by 34.2 percent of voters, the survey shows that she would lose to the socialist candidate in the elections.
In a second round, the poll shows that Silva would be elected with 43.7 percent of votes, against 37.8 percent won by the Brazilian president.