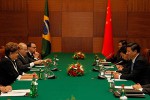 Brazilian and Chinese Presidents Dilma Rousseff and Xi Jinping, respectively, began official talks this Thursday aimed at strengthening trade, investments, and the strategic alliance between the two nations.
Following the welcome ceremony, Rousseff and Xi met closed doors in one of the rooms at Planalto Palace (the presidential headquarters) and later inked various agreements for strengthening economic-trade links.
In a prior speech made at the Congress, the Asian country's president said that China-Brazil alliance is an example of the South-South cooperation and goes beyond the level of bilateral relations.
Xi Jinping said that Brazil has become China's first trade partner in Latin America and the Caribbean in the last five years, and urged to celebrate the 40 years of diplomatic relations as a starting point for moving towards a strategic association to a higher and more comprehensive level.
Brazil and China should increase their role in the world scenario, through organizations such as G-20, the United Nations, the World Trade Organization (WTO) and Brics group (Brazil, Russia, India, and South Africa).
Following the signing of the agreements, Xi will hold a meeting with the signatories of the quarter of the Community of Latin America and Caribbean States, aimed at strengthening bilateral links.