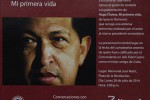 The book "Hugo Chavez: Mi primera vida: Conversaciones con Ignacio Ramonet", a biographic interview to late Venezuelan leader Hugo Chavez, is a best seller this summer in Cuba, it was reported.
Head of the Marketing Department of the Cuban Book Institute, poet Karen Leyva, confirmed the success in sales of the volume presented here in April by his author, French-Spanish essayist Ignacio Ramonet.
The text goes into Chavez's childhood, adolescence and youth in depth, "a modest childhood, like that just a few presidents have had," Ramonet told Prensa Latina then.
In this book, the former editor of Le Monde Diplomatic summarized almost three years and 200 hours of conversations with Chavez (1954-2013), which were read and approved by the interviewee.
It was originally scheduled for launch on January 10, 2013, but Chavez's illness prevented it, noted the author.
Some 65,000 books more have been sold this year in the summer literary offensive to encourage reading habits, compared to 2013, thanks to a greater diversity of books on offer and a marketing effort not only limited to bookstores, according to Leyva.