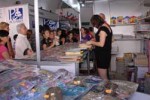 The International Book Fair, FIL 2014, will recall today Cuban narrator Onelio Jorge Cardoso, called the Great Storyteller due to his prolific work and dominion of this gender.
A panel on occasion of the 100th birthday of the author of classical stories for children and adults, such as the poem El Caballito de Coral, will take place at San Carlos de la Cabaña Fortress in Havana, main venue of the Fair.
Another book is "Francisca y la Muerte," although perhaps the short story that define him better was starred by a guy called Juan Candela, who had the ability to tell stories.
About Cardoso, a prolific writer for children, the Fair proposes today a lecture on the current panorama of the child literature in Ecuador, the country guest of honor at this Fair.
Also on the list is a talk on occasion of the 125th anniversary of "La Edad de Oro" (The Golden Age), a magazine written for children, edited in late 19th century by Cuban national hero Jose Marti.
More than 500 intellectuals, editors, translators and artists from 30 Latin American and European countries are represented in this Fair, to be held until Feb. 23 in this capital.