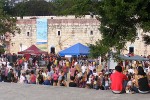 The great Cuban book and reading fair begins today a tour of the island, after 10 days of sales, launchings, and theoretical debates in Havana.
The International Book Fair again called hundreds of thousands readers eager to learn new titles, or at least make a bucolic getaway beyond the Havana Bay.
The San Carlos de la Cabaña Fortress, main venue of the fair, received dozens of thousands of visitors who as well as loaded with books, enjoyed a free concert.
This edition had Ecuador as a country guest of honor, and a delegation of writers came from that South American nation, among them Abdon Ubidia, president of ALBA Award jury on Narrative Techniques.
Not only Ubidia, but also other writers consulted by Prensa Latina, agreed that the Fair is a suitable space for debate, especially as favor approaches to several narrative techniques.
According to organizers, about two and a half million copies were put on sale, and as always book for children were the most-sought for adults who, apparently, have increasingly less time to read.
The Havana edition of the Fair met 500 intellectuals, editors, translators, and artists from 30 Latin American and European countries.
The 23rd Book Fair concluded in Havana to begin its tour nationwide through March 9.