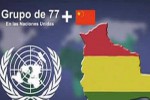 The Bolivian city of Santa Cruz de la Sierra is ready to receive the delegations participating in the Summit of the Group -77 plus China.
The delegation of the Organization of United Nations (UN), to which the G-77 belongs, was the first to arrive in this city, which woke up with rain and strong winds.
A heavy rain hits the city since the dawn and threats to prevent the completion of the G-77 road, a road that links the international airport of Viru Viru, where most presidents will arrive in, with the center of the city.
Yesterday, very late, the Santa Cruz workers operated on the road, which should have been ready, but the rains slightly off time of the past days prevented its completion in time. The opening ceremony will be held next Saturday, but the leaders will arrive from tomorrow on.
However, many Santa Cruz inhabitants are optimistic and believe everything will be ready, while others believe that, even if it is not complete, the summit will be a success anyway and will mark a before and an after for the largest city in the country.