Sancti Spiritus Teatro Principal hosted this Saturday the ceremony in which the best athletes of this year were awarded.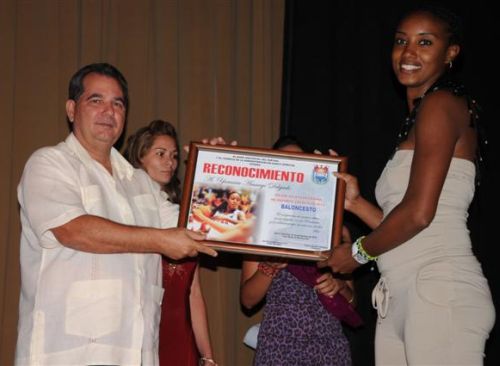 José Ramón Monteagudo Ruíz, first secretary of the Party in the territory, handed out diplomas of recognition to the best individual sport athletes Eglis de la Cruz Farfán (shooting), and Yosbany Veitía (boxing), as well as to the most outstanding in team sports: Frederich Cepeda Cruz, (baseball), and Yamara Amargo (basketball).
Likewise, hammer throw female athlete Yirisleidis Ford, silver medal winner in Veracruz, was elected rookie of the year; Greco-Roman wrestling was the best team; basketball the best team sport, while swimming was the best individual sport.
The President of the Provincial Assembly of the People's Power, Teresita Romero Rodríguez , acknowledged the best ten athletes in the adult category: Serguey Torres (canoeing), Dayaris Mestre (judo), Eduardo Rubio and Janier Concepción (rowing),  Yasniel Carrero (athletics), Rolando Cepeda (volleyball), Yumari González (cycling), Marlene Cepeda (basketball) and Yuraima Vera and Roseli Harris  (field hockey).
Also awarded in the ceremony were gymnast Rafael Rosendo, who won a bronze medal in the 22nd Central American and Caribbean Games; Martha Torres, silver medal in the same event; as well as Ismel Jiménez, for his outstanding performance as reinforcement for Villa Clara baseball team.
The two best juvenile athletes were also granted diplomas of recognition. They were skater Hayla de la Caridad Brunet (7th in the CACG, and winner of eight titles in the National Skate Championship), and volleyball player Osmani Uriarte, selected one of the country's ten best in is category.
Several local disabled athletes were also acknowledged. They were Yangalini Jiménez (judo), Yoandi Ledesma (athletics), and Yoel Castellón (weight lifting). Likewise, recognitions were received by Julio Fidel Hernández, best international referee of sport shooting; Pablo Abilio Carbó, best national referee of boxing; Francisco Abel González, best Physical Education professor from Mártires de Yaguajay Special School; Iván Reyes, best coach of high performance athletes; and Reinier Escobar, best community coach.
Within the context of the celebration, the Communist Youth League presented the participants in Veracruz Central American Games with recognitions.