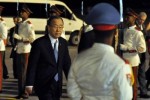 U.N. Secretary General Ban Ki-moon begins today a visit to Cuba, where he will participate in the 2nd Summit of the Community of Latin American and Caribbean States (CELAC), on Jan. 28-29.
The top diplomat arrived in early today to the Jose Marti International Airport, and will be welcomed at the headquarters of the Council of Ministers, at the capital's Revolution Square.
The agenda of the UN secretary general also includes a visit to the National Center for Sex Education, an educational, investigation and welfare institution in the area of human sexuality.