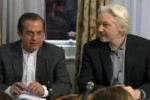 After two years of asylum inside the Ecuadorian embassy in London, journalist and computing specialist Julian Assange spoke to the press today along with Ecuadorian Foreign Minister Ricardo Patiño.
To mark the second anniversary of the granting of asylum to Assange by the State of Ecuador, Patiño is in the British capital, where he met with the founder of the Wikileaks organization.
In the press conference today, where Assange spoke about this period of asylum at the Embassy of Ecuador in London where he has been unable to leave or see his family, and his health has been affected, he said: "I understand that Kristinn Hrafnsson (Wikileaks Spokesman) has said that he can confirm I am leaving the embassy soon."
He also added that his departure was not due to needing medical treatment, as some media have reported.
Meanwhile, Ecuadorian Foreign Minister Ricardo Patiño seemed to suggest Mr. Assange would be in the embassy for some time to come. He asked how long the Swedish judiciary would allow this situation to continue: "Five more years? Ten more years?" and lamented that there had been "no movement" since Mr. Assange entered the embassy in June 2012.
Yesterday, the president of Ecuador, Rafael Correa, questioned the actions of the world's mainstream press in the case of Assange.
At his Twitter account, in reference to the media silence about Assange, Correa said: "Where is the "free and independent" press? What if this had happened in Ecuador?"
The American government is hounding Assange due to Wikileaks having revealed thousands of confidential information and documents on Washington's illegal actions in the wars in Iraq and Afghanistan, among other topics.
Meanwhile, Patiño ratified his country's decision to continue supporting Assange: "Our decision is absolutely solid; it is a decision that is based on recognizing his courage and decisive behavior, and not only has the support of Ecuador but the support of millions."