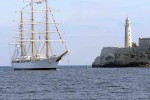 The Argentinian frigate "Libertad," docked at the Havana harbor as part of a tour of several Latin American countries, is open for visits from the Cuban public, starting today, until July 6.
The naval training school for that South American nation arrived in Cuba yesterday, as part of a training crossing. The crew was received by authorities from Cuba's Revolutionary Navy and the ambassador of that country, Juliana Marino.
After arriving at the Havana harbor, a 21-gun salute was fired from the Morro Cabaña historic-military complex, greeting the visitors.
The Libertad commander, Marcos Ernesto Henson, said they are traveling as ambassadors of their country and as such, they carry a message of solidarity, Latin American integration, and fraternity.
Henson and many crewmembers paid tribute to Cuban National Hero Jose Marti and Argentinian patriot Jose de San Martin.