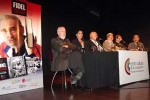 The Latin Americanist, humanist and solidarity spirit sustained Fidel Castro's work, panelists attending a forum dedicated to the historic leader of the Cuban Revolution, stressed in Argentina.
The Cultural Center of Cooperation in Buenos Aires held the roundtable discussion "Fidel and the emancipation of Our America," in which political scientist Atilio Boron, historian Francisco Martinez, Cuban ambassador Jorge Lamadrid, and Doctor Héctor Hernández Pardo, participated.
"Fidel Castro synthesized and put into practice Jose Marti's Latin Americanist, humanistic, and anti-imperialist vision, as well as his evocation of cultural and Pan-Africanism anti-colonialism, which marked the struggle of the Cuban leader," Martinez stated.
According to ambassador Lamadrid, Fidel "embodies the purest and noblest of the Cuban nation, in which he managed to forge a strict unity by his genius for leadership and popular descent, amid a strong resistance facing the intense U.S. blockade."
For Boron, "Fidel and the Cuban Revolution marked a new stage for Latin America," and its influences are present in the national and popular processes the region is experiencing.