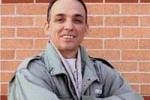 Cuban anti-terrorist fighter Antonio Guerrero expressed thanks for the solidarity and affection received on the occasion of the 22nd birthday of his son Gabriel, in a letter published by Granma newspaper.
Guerrero is one of the men known worldwide as the Cuban Five, imprisoned in the United States since 1998, and sentenced to long prison terms three years later for having monitored the activities of extremist groups operating from South Florida.
"Dear Friends, the doors of the cells were just opened. I came to check the messages and found many, many congratulatory messages from Cuba and the most diverse places around the world," said the letter dated yesterday.
"I've spent seventeen October 16ths in prison, but I reiterate that I am a man full of optimism, happiness and freedom thanks to your infinite love," said Guerrero.
"We continue to fight and WE WILL PREVAIL" reaffirms the letter in which he confirms the eternal gratitude of the Five for the support of the thousands of people demanding his release, along with Gerardo Hernández and Ramón Labañino.
René González and Fernando González were two of the Cuban Five and have returned to Cuba after serving their sentences in full, where they are participating in the international campaign for the return of their brothers in arms.